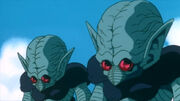 Biomen (バイオマン, Baioman) are blue, humanoid creatures created by Kochin. They bear a striking resemblance to Saibamen, but are colored blue, have a different body structure, and can speak, though not very fluently. Just like the Saibamen, they can self-destruct, which one of them uses against Yamcha. All Biomen are voiced by YamatoSFX.
It's noticeable that Biomen are actually weaker than Saibamen as Master Roshi was able to easily defeat them and that Yamcha has survived their explosion.
Ad blocker interference detected!
Wikia is a free-to-use site that makes money from advertising. We have a modified experience for viewers using ad blockers

Wikia is not accessible if you've made further modifications. Remove the custom ad blocker rule(s) and the page will load as expected.