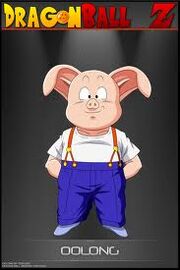 Oolong (ウーロン) anthropomorphic, shapeshifting pig who makes some minor appearances in Dragon Ball Z Abridged. Just like in the anime series, he's shown to be slightly perverted (not as much as Master Roshi) and has a hobby of collecting panties (particularly Bulma's). He's also shown to ignored by everyone else due the the fact that no one celebrated his birthday, which was a week before Turtle's, in "There's Something About Maron". At one point, he was against Master Roshi's idea of buying a submarine fearing that he will name it after his junk (which he eventually does).
He was first voiced by Vegeta3986 in Season 1 but got changed to KaiserNeko starting in the movie "Lord Slug Abridged".
There is a running gag were when he asks what is in food it contains pork followed by him enjoying the fact it is pork. Strangly he didn't minded eating ramen (which had pork) in the original DBZ episode which Chiaotzu made.
It's revealed in the movie "The World's Strongest" that he wants the pigs to take over the world.
Master Roshi addresses him simply as "Pig" most of the time.
Ad blocker interference detected!
Wikia is a free-to-use site that makes money from advertising. We have a modified experience for viewers using ad blockers

Wikia is not accessible if you've made further modifications. Remove the custom ad blocker rule(s) and the page will load as expected.